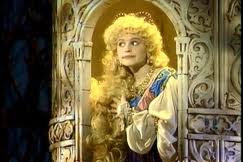 Rapunzel is a character in Into The Woods. She is based from the character in the German fairy tale, Rapunzel. She has long golden hair and is banished to a tower without doors by her mother, the Witch. She was originally the daughter of the Baker's parents, but the Witch took her to be her own after the Mysterious Man stole her beans. Rapunzel is the only light in the Witch's world, as she has been cursed with ugliness. The Witch only wants to protect Rapunzel, but hurts her instead. The Witch means well, but fails to show her intent.
Like in the fairy tale, Rapunzel has long golden hair. Some of the hair is taken by the Baker's Wife as part of the potion for her and the Baker to have a baby. The Witch cuts the rest of her long locks after Stay With Me, and banishes Rapunzel to the desert where she bears twins.
She was killed by The Giant, who accidentally stepped on her while walking away. 
Ad blocker interference detected!
Wikia is a free-to-use site that makes money from advertising. We have a modified experience for viewers using ad blockers

Wikia is not accessible if you've made further modifications. Remove the custom ad blocker rule(s) and the page will load as expected.